Say hello to 4 Millum'ers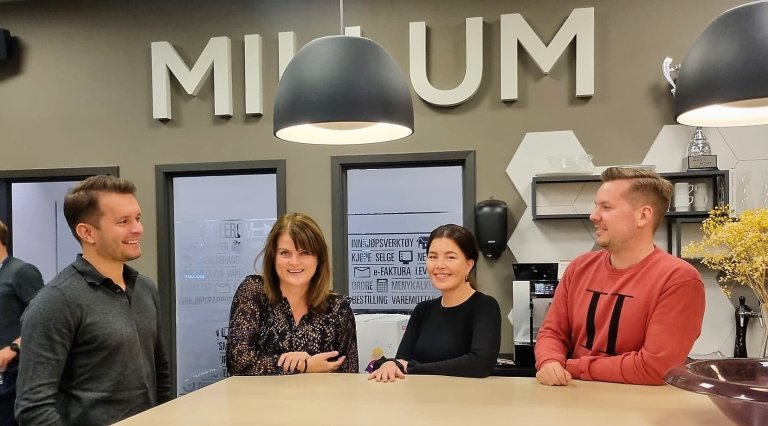 Simen works as a consultant and has been with Millum since 2013. His job consists, among other things, of setting up the procurement system for new customers and assisting existing ones. He knows the system inside out, leads a development team and participates in several projects. Simen is one of Millum's external faces, and can be found at fairs and stands. In addition, Simen is a self-described member of the event committee, and is happy to organize a good party.
Tanya works as a UX designer and has been at Millum since the summer of 2022. Together with the rest of the UX team, she will optimize the user experience of the procurement system. She does this by gathering insights, and defining which adjustments should be made, to make the use of the system more seamless.
Linus joined Millum in 2021. He works as a front end developer, which means that he programs the part of the purchasing system that the customers see, i.e. what is in the front. Linus collaborates both with the back end and with UX on development tasks to be done, participates in launches of updated versions and presents changes to the system, for the rest of Millum.
Vivian has worked as KAM at Millum since 2012. She already knew the industry well, with both education and work experience from tourism. Vivian is the main contact for several of our largest customers, and has a close dialogue with the procurement chains and suppliers. Vivian is the customer's extended arm into Millum. Among other things, she passes on their needs to our internal councils, so that we develop Millum in close collaboration with those who use it.
Tanya says:

"I'm a recent graduate in UX, but quickly got my own areas of responsibility. It's very educational. I like collaborating with the rest of the UX team on solutions. We also have a very good working environment!"

Linus says:

"It's cool that as a developer I get to participate in processes from A-Z. It gives me ownership of what I code. Inspiring to see when an idea comes to life, and then is used by the customers. It's easy to get to know your colleagues here."

Vivian says:

"Millum is a good place to work. I get freedom under responsibility and the opportunity to influence my own workday. There are short decision-making processes, and I get to meet nice people, both as KAM and in the office."

Simen says:

"For me, it is important that my input is heard. The fact that it is a slightly smaller company, with a flat structure, gives me great influence. Also, I think it is fun to work for a management that arranges nice things for its employees."
Work in Millum!
When you work in Millum, you become part of a diverse group of 37 people, with different work responisibilities and interests. However, we have two things in common; our aim to become the Nordic region's largest procurement system for hotels, restaurants and staff restaurants and our aim to create a working environment where everyone thrives.
About half of us are pure technology heads in the IT department, while the other half consists of administration, sales, marketing & design.
In our company, we have an earmarked budget per employee intended for competence development. This way, we can develop both as a company and as individuals. Win-win.
In addition to sharing our workdays, we want to share enjoyable experiences. We exercise together weekly, the events committee organizes social activities monthly, and we go on an annual trip.
We believe that seeing each other in the meeting room on Monday, in the training room on Friday and in their finery at the Christmas party is important for our environment.